Dear reader,
Welcome to the December 2017 edition of The Director's Dilemma.
To read this email in a browser, go to www.mclellan.com.au/newsletter.html and click on 'read the latest issue'.
Contact me to arrange for a practical board workshop or conference presentation for your organisation.
This month our case study uncovers some of the issues around payments for NFP directors and what can happen when expectations are unmet. I hope you enjoy thinking about the governance and other implications of this dilemma: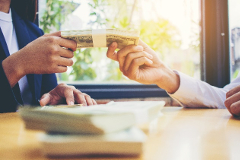 Victoria chairs the board of a not-for-profit organisation that offers scholarships at leading boarding schools for children in secondary education from disadvantaged backgrounds and living in regional, rural and remote communities. Many of the beneficiaries are from indigenous peoples and her board was delighted when the Minister for Education offered to help them source a new director. The Minister suggested a high profile and well-connected leader from a beneficiary community. It seemed just what they needed.
The new director met Victoria for a coffee and said that he was delighted to be joining her board as his people had great need for quality education. He had some good insights about sourcing grant funds to supplement their current bequests and donations. He then met some other directors, and all agreed that he would be a perfect addition to the board. A letter of appointment was sent and a consent form was received.
At his first board meeting the new director asked for the company to pay his travel and accommodation in attending the meeting and also for a sitting fee of one thousand dollars. He said this was a legitimate expectation and that he was paid for his service on other boards. The letter of appointment clearly stated that directors were unremunerated and attended meetings at their own cost. Now he has complained to the Minister that he hasn't been paid and a staffer has called to ask why not.
How can Victoria resolve this difference between the expectations of the board and its new director?