Dear reader,
Welcome to the November 2017 edition of The Director's Dilemma.
To read this email in a browser, go to www.mclellan.com.au/newsletter.html and click on 'read the latest issue'.
Contact me to arrange for a practical board workshop or conference presentation for your organisation.
This month our case study considers the dilemma of choosing between experience and potential when building a board for an IPO. I hope you will enjoy thinking through the key governance issues and developing your own judgement from this dilemma.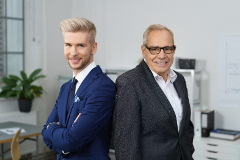 Umberto founded his company ten years ago and built a successful technology company with a product that is tested in the market and capable of further development. Potential exists to take the product global; Umberto needs to move fast to retain the advantage of IP and know-how that can't be easily replicated. An IPO is planned within twelve months and Umberto is confident his business will make a smooth transition from private to public company status.
Umberto has an advisory board with a range of skilled directors, each of whom adds considerable expertise in a relevant topic. He has benefitted greatly from their insights, and plans to convert this group of people into a governing board as he goes through the listing process. He is keen to add a new person to his board and has spoken with an ambitious bright young executive who has recently returned after five years in Asia selling a technology similar to Umberto's product.
The broker advising on the IPO told Umberto that his board are a -bunch of unknowns" and unlikely to inspire the confidence of private equity investors and small funds that are the target market for his equity raising. The broker suggests appointing a 'household name' director from a large listed company. He admits that this person would not add much to the strategic competence of the board but claims they would help to bring in investors.
Umberto is in a quandary; he feels it would be disloyal to back out after his discussions with the young potential director, can't justify bringing in two new directors, and doesn't want to lose any of his existing team. He understands the merit of the broker's suggestion. Should he choose experience and reputation or energy and ability?